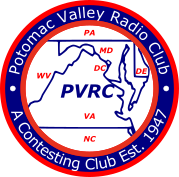 Fowlfest 2016
Fowlfest at the QTH of W3NRJ 15301 Turkey Foot Road, Darnestown (or Gaithersburg) MD 20878. Telephone 301-977-8583. DATE: 08/27--RAIN DATE 08/28 11:30 - 3:30 pm.

Change for this year: There will be a modest break-even charge for chicken with fixin's, drinks, and plates/tableware etc. instead of clubs' contributions and voluntary contributions as in past years. We will try to target a cost about the price of a meeting lunch or dinner most all of us attend regularly. We're sure you will turn out regardless of this small charge.

So for budgeting purposes it's important to know your attendance plans. IF YOU PLAN TO ATTEND, RESPOND TO MY EMAIL AND THE REFLECTOR TO MAKE OTHERS AWARE OF YOUR ATTENDANCE. (If you do NOT plan to attend NO NEED to send "regrets" to add traffic to the Reflector.)

Chef Todd, WB2ZAB, will prepare his delicious chicken with his top-secret basting sauce again this year. We will also have deli side items in addition to the chicken to fill your plate, soft drinks, and water. We welcome your DESERT AND SALAD CONTRIBUTIONS only (no chips needed). Also, if you would like to bring your favorite beer for the cooler, that's fine also.

W3NRJ will provide tables, but chairs are no longer available, SO BRING YOU OWN CHAIR to sit at the table.

Finally, we could use at least one more volunteer helper to come at 9:00 for table and "runner" duties as needed the morning of the event. Please so indicate in your email.

Let's hope for good WX for the good eats and chats on the shaded "breezy knoll" in W3NRJ's antenna farm. CU there ! 73, Jim W3NRJ

(2005 Fowlfest pictures, credit: W3YY).
Blast from the past: Fowlfest 2005
Please see W3YY's archive of 2005 Fowlfest pictures. Some excerpts below!
July 2016 Newsletter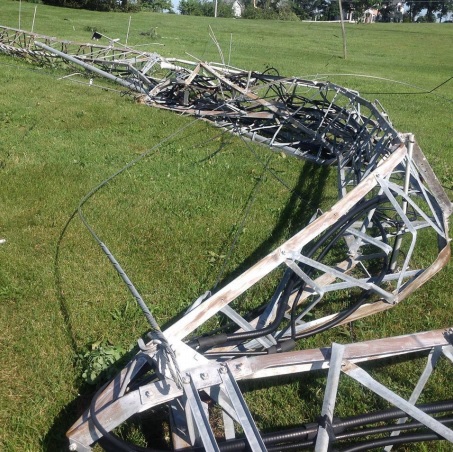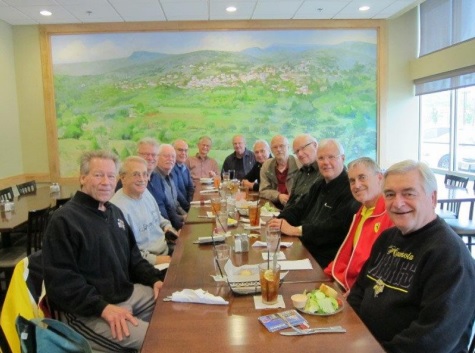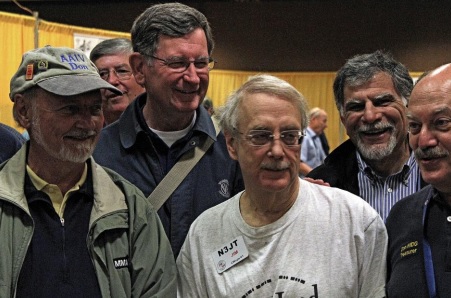 In the July 2016 newsletter: Introducing the "20 FOR 20 Award", EF0 Tornado Takes Down W3LPL Tower, Remote Contesting, Virginia Meeting of the Over the Hill Lunch Bunch, VP2M 2016 CQ WW WPX CW, Dayton Photos, and more!
Introduction to PVRC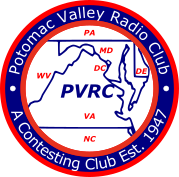 PVRC has a rich history going back to its foundation in 1947, with valued traditions defining our club.

"Once PVRC, always PVRC" expresses a positive open-ended membership policy reflecting the many lifetime friendships formed in the club. Many of these friendships now span the US and the globe, with PVRC alumni found in nearly every other major radiosport club.

Though we began as a small local club in the DC metro area, over the years we grew to in-territory membership in six states and DC. To foster the original local experience all across the PVRC territory, we are organized in local chapters. Over a dozen chapters provide members easy travel to meetings for the face to face experience that is the source of tower parties, physical help, elmering, personal encouragement, and just plain fun - the glue that bonds us together.

PVRC members are e-wired, in constant communication via the PVRC e-mail reflectors. We use the reflectors to organize and function as an entire club, schedule club-wide events, set ourselves up for contests, share experience and access the incredible knowledge base of our members. We draw our officers and trustees from all across the club territory, and they largely communicate across this geography via electronic means.

The PVRC 5 Million Award Program recognizes our members' contribution to club competition by awarding points for scores submitted on behalf of PVRC. We award a very neat plaque for reaching 5 million points with endorsements for levels beyond.

Please explore the PVRC web site to learn more about us, and we cordially invite you to contact an officer or a Chapter Chair to begin exploring how membership in PVRC can benefit you as a radiosport player and competitor!
Introducing the 5M 20 for 20 Award!

Contribute as a single op or as part of a multi op a minimum of 20 QSO's in 20 different 5M contests, including a minimum of one each single mode CW, SSB/Phone and RTTY entry from the 29 available. Full details under the 5M Reference Button above!
Officer Changes
Bill Hider N3RR has submitted his resignation letter to the President and has been accepted. Bill has provided many years of leadership to the club especially in his role as Treasurer. The Board of Directors has announced a couple of changes. VP Tom Valenti, K3AJ, has been appointed the new treasurer. The Board also announced the appointment of Dan Zeitlin, K2YWE, of the Annapolis Chapter as the new VP vice Tom. Dan has been a member of PVRC since 1996. All changes are effective immediately.
Officers for 2016
Check the contacts page for full details. President is Bud Governale, W3LL, Vice Presidents are Ted Edwards, W3TB and Dan K2YWE, Secretary is Tim Shoppa, N3QE and the Treasurer is Tom Valenti, K3AJ.
PVRC Calendar
Want to add a PVRC event to this calendar? Please Click Here and let us know the details!
Color coding: Red=5M Contest&nbsp&nbspBlue=Chapter Meeting&nbsp&nbspGreen=PVRC Event